How to File the I-526 Petition for Alien Entrepreneur
---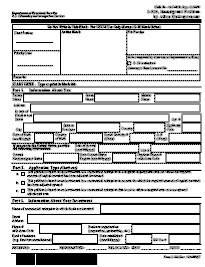 The petition to obtain permanent resident status under this classification must be filed on Form I-526, "Immigrant Petition by Alien Entrepreneur." The petition must be signed by the foreign national and his or her authorized representative, and accompanied by the current fee amount. The foreign national may file the petition on his or her own behalf. It must be filed with the USCIS Service Center in California.
Supporting Documentation
Extensive evidence must be submitted with the Form I-526, "Immigrant Petition by Alien Entrepreneur," to document that the foreign national has invested or is actively in the process of investing the required amount of lawfully obtained capital in a new commercial enterprise in the U.S. which will create at least ten full-time positions for qualifying employees.
To show that a new commercial enterprise has been established in the United States, the foreign national must submit:
As applicable, articles of incorporation, certificate of merger or consolidation, partnership agreement, certificate of limited partnership, joint venture agreement, business trust agreement, or other similar organizational document for the new enterprise;
A certificate evidencing the authority to do business in a state or municipality, or if the form of the business does not require any such certificate, or the state or municipality does not issue such a certificate, a statement to that effect; or
Evidence that, as of a certain date after November 29, 1990, the required amount of capital for the area in which the enterprise is located has been transferred to an existing business, and that the investment has resulted in a substantial increase in the net worth or number of employees of the business to which the capital was transferred. Evidence must be in the form of stock purchase agreements, investment agreements, certified financial reports, payroll records, or any similar instruments, agreements or documents evidencing the investment in the commercial enterprise and the resulting substantial change in the net worth or number of employees.
To learn about EB-5 Green Card, read the Frequently Asked Questions section which may answer your initial questions.
Schedule a free consultation with EB-5 Green Card attorney Mark Ivener to learn more about the EB-5 Green Card program. Your total investment will vary with your investment choice, your due diligence, and other factors.
Related Articles
Related Topics

Get your questions answered - call me for your free, 20-minute phone consultation (310) 477-3000