What is an EB-5 Green Card?
---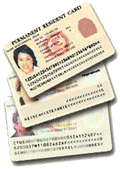 The Immigration Act of 1990 established the EB-5 immigrant investor visa program to create U.S. jobs by attracting foreign capital to the United States. Every year 10,000 EB-5 Green Cards are available. There is no quota waiting list for EB-5, except for China, unlike H-1B and H-2B nonimmigrant visa classifications, and most EB-2 and EB-3 immigrant classifications where the demand far exceeds the supply.
Almost a third of these 10,000 EB-5 Green Cards (3,000) are set aside for qualifying immigrants who participate in an EB-5 Regional Center program that generally targets high unemployment areas across the United States.
The EB-5 Green Card program has three basic requirements:
The alien must establish a U.S. business or invest in an existing business that was created or restructured after November 19, 1990
The alien must have invested $1.8 million (or only $900,000 when investing in a targeted employment area) in the business
The business must create full-time employment for at least 10 U.S. workers
To read more about EB-5, begin by reading the Frequently Asked Questions section which may answer some of your initial questions.
To learn more about the EB-5 Green Card program, schedule a free consultation with EB-5 Green Card attorney Mark Ivener. Your total investment will vary with your investment choice, your due diligence, and other factors.