EB-5 Green Card Services
---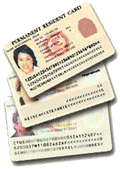 The EB-5 Green Card law firm of Mark A. Ivener, A Law Corporation is available to help you pursue your goal of becoming a U.S. permanent resident through an EB-5 Green Card investment. Attorney Mark Ivener is a respected EB-5 Green Card author and frequent speaker who has advised many immigration attorneys on EB-5 Regional Center immigration procedures and helped over 100 foreign national clients achieve U.S. permanent residence through the EB-5 Green Card category.
There are two EB-5 programs, the Direct Investment Program and the Regional Center Program, and we offer legal assistance with both.
EB-5 Green Card Services For Direct Investment & Regional Center Programs:
Mark A. Ivener, A Law Corporation is ready to provide you with comprehensive EB-5 Green Card services that apply to both the Direct Investment and Regional Center programs, including:
Confirm the source and availability of funds available for your EB-5 Green Card business investment, which generally requires the submission of 5 years of tax filings
Advise on due diligence for your preferred business investment
Prepare and file your Form I-526 petition as an alien entrepreneur with the U.S. Citizenship and Immigration Services (CIS)
Once you are approved, we help you file for an Adjustment of Status or Immigrant Visa
When you are granted conditional resident status, we monitor your case during the 30 month wait period required to verify that the full investment has been made and 10 jobs created (if applicable)
We help you file the Form I-829 application to remove conditional resident status at the specified time to obtain permanent residence.
EB-5 Green Card Regional Center Application Services:
The Regional Center program is ideal for the retiree or inactive investor due in large part to the "indirect employment creation" requirement and usual limited partner feature of this program. If you choose to invest $900,000 plus acquisition costs through one of more than over 673 Regional Centers, we can assist you by discussing due diligence consultation of Regional Center program options that may be best suited to you.
There are several steps in the Regional Center program category which vary based on your individual circumstances.
Direct Investment and Regional Center EB-5 Immigrant Investor Process Flowchart: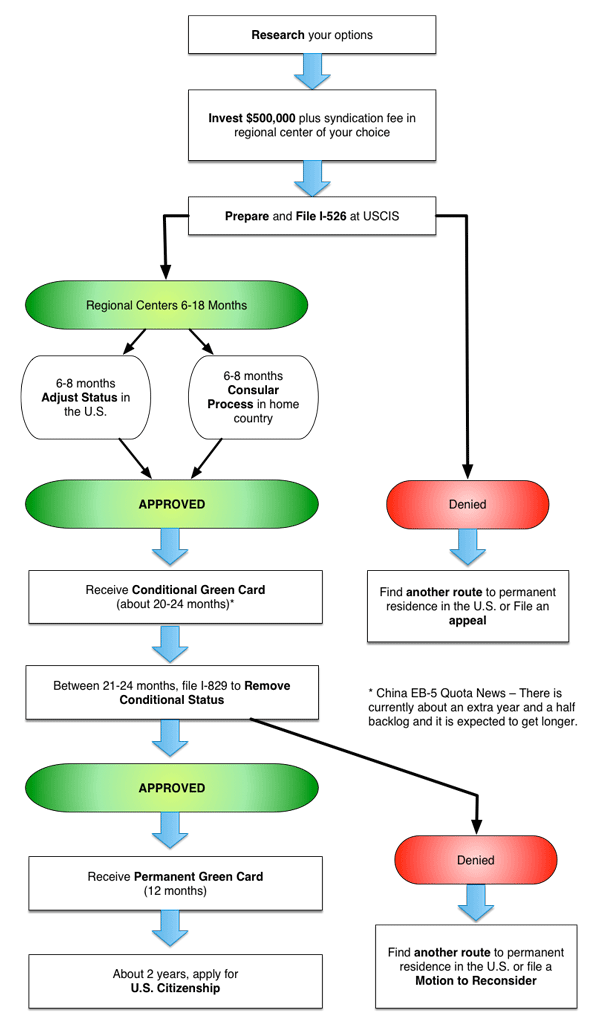 See also Direct Investment Procedures and Timing I&F 2014 with Chinese Quota News
China EB-5 Quota News:
On October 24th at the IIUSA conference in San Francisco, the State Department's official who distributes visa numbers, reported that based on current I-526 filings and past approval rates, he predicts that in the first or second quarter of FY 2015, he will announce the EB-5 quota for China (but no other countries) will backlog and it will roll back to sometime in 2013. This means only people with I-526s filed sometime in 2013, will, when the I-526 is approved, be able to proceed with their immigrant visa application and can be allocated a visa number.
The State Department Official predicts that in 2016 there will be about a 2-year backlog and in fiscal year 2017 about a 3-year backlog. There is already a wait time of about 1 1⁄2 to 2 years for an I-526 and immigrant visa. So the added wait time may be 1 year or so. We will see at that time.
EB-5 Green Card Direct Investment Program Application Services:
If you choose to invest $900,000 to $1.8 million through the EB-5 Green Card Direct Investment Program, Mark A. Ivener, A Law Corporation can help you:
Advise on reorganizing an existing business to become a qualifying new commercial enterprise
Identify a "troubled business" that may allow you to create fewer than 10 new jobs
Start The EB-5 Green Card Process Now:
Getting started is easy. Schedule a free consultation to speak to EB-5 Green Card attorney Mark Ivener in more detail about your case, or contact us at one of our international offices in Los Angeles or Washington, D.C.
Here are some examples of successful EB-5 cases to get an idea of possible scenarios.
For more information, click here to download the EB-5 chapter (PDF) from "The Handbook of Immigration Law," written by Mark Ivener and David Fullmer.
For more due diligence information, click here to download our EB-5 Regional Center Investor Due Diligence Checklist.

Get your questions answered - call me for your free, 20-minute phone consultation (310) 477-3000